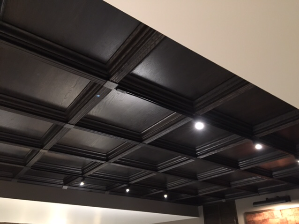 Classic Coffers™ Real Wood Coffered Ceilings differentiate fine, high-end finished spaces.
Our wood ceiling gives you:
The beauty of a classic, handcrafted ceiling.
A cost-effective alternative to custom millwork.
Access to utilities and wiring in the ceiling.
Pre-finished components that eliminate job site mess.
Quick installation without the use of special tools.
The Classic CoffersTM System, with the use of recycled materials, contributes to generating LEED® points.
Available FSC CERTIFIED.
Classic CoffersTM ceilings are designed for a variety of sound attenuation (noise control) and sound absorption (sound quality) properties.
Micro-perforations, leather, and fabrics offer additional sound absorption.
Classic CoffersTM ceiling systems have been laboratory tested in accordance with ASTM, C423 & E795.
Final result: A Fast & Easy Installation With Design Options To Meet Your Budget!
More information available at www.classiccoffers.com.
We appreciate the opportunity to work with you. Please contact us to discuss how our products can support your next project. Contact us at 877-297-2228 for all inquires.