Why is Historic Timber and Plank the best choice for manufacturing wood products? Here are just a few reasons why: 
Reclaimed and Recycled
We have products that are produced from 100% Post-Industrial "Recycled" materials that are generated from our flooring and millwork production, providing very high fiber yields from our raw materials.
Complete Wood Packages 
Today, HTP is a high-quality custom manufacturer of Solid Wide Plank Floors, Innovative "Recycled" Wall and Ceiling Systems, Tables, Timbers, Beams, Columns and Custom Millwork for a "Complete Wood Interior Package".
Family-owned Business
Historic Timber and Plank ownership has been involved in precision hardwood manufacturing since 1982. As a second generation family-owned business, we guarantee that you will receive the best in customer service and high quality products.
These are just a few reasons to choose Historic Timber and Plank for your interior wood needs!
– We use reclaimed and recycled materials
– We produce complete, interior wood packages
– We are a family-owned business with high quality products
Contact us today at 877-297-2228 for all inquiries!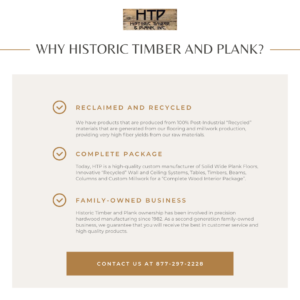 Historic Timber and Plank: Manufacturing Unique and Complete Wood Interiors from new and reclaimed materials.