Hello! Historic Timber and Plank started a blog! We are here to share our story, projects, tips and tricks about what we do, our team, production and much more.
We are Eco-Friendly:   
When we first started our wood manufacturing operations in 1982, we have taken pride in being an eco-friendly, manufacturing company. We believe in recycling materials and utilizing yesterday's materials for today's interiors.
Today, HTP is a high-quality, custom manufacturer of Solid Wide Plank Floors, Innovative "Recycled" Wall and Ceiling Systems, Tables, Timbers, Beams, Columns, and Custom Millwork for a "Complete Wood Interior Package".
These products are produced from 100% Post-Industrial "Recycled" materials that are generated from our flooring and millwork production, providing very high fiber yields from our raw materials.
We believe our production structure is one of a kind, as we ALWAYS provide high quality wood products, while reusing and recycling our products for a sustainable, eco-friendly and long lasting finish.
We just completed one of our latest projects at  Malnalti's Pizza Restaurant in Milwaukee. These products consisted of all reclaimed barn wood that we processed and finished.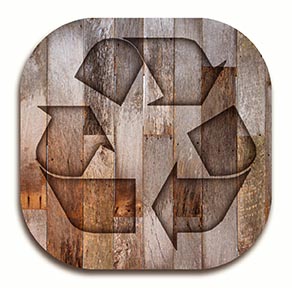 Historic Timber and Plank: Manufacturing Unique and Complete Wood Interiors from new and reclaimed materials.